Dale Norman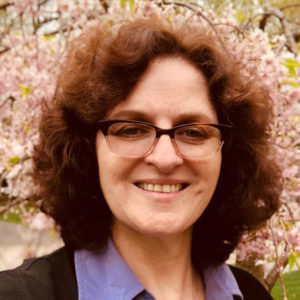 Dale Norman is the Director of Education and Lifelong Engagement (DELE) at Congregation Shalom in Chelmsford.
Dale is drawn to the communal warmth and spirit of Tikkun Olam and Social Action suffusing Congregation Shalom. Prior to joining Congregation Shalom in this expanded educational role in July of 2018, Dale was School Director at the Kesher After School in Cambridge, Mass from 2015-2018, where she reworked, edited, and helped revitalize their innovative Ivrit/Hebrew proficiency-based curriculum.
Dale has an extensive career in Jewish Education, including, teaching multiple grades and directing the seventh grade Holocaust Program at Temple Beth Elohim (TBE) religious school in Wellesley. Previous to that, she headed the seventh grade Holocaust program at Temple Emanuel in Newton for 17 years. In addition, Dale has conducted musical services for preschoolers, taught first, second, fifth, sixth, and seventh grade students, plus developed a cutting-edge Jewish political technology-based class for high school students. She has also worked in Southborough as an eight grade Language Arts teacher and 1:1 with an autistic student in Brookline.
Dale has successfully taught a wide variety of ages and Judaic subjects. Classes include sixth grade B'nai Mitzvah Tefilah/Prayer prep, developing Limud/Elementary classes, teaching and facilitating Maasim Tovim/Good Deeds Middle School programming, as well as tutoring students in Hebrew. Dale has worked as an educator in a broad array of synagogue-based programs in the Boston area, including in the Reform, Conservative, and Reconstructionist movements.
In addition, Dale has worked as an editor and journalist at Boston's Jewish Advocate. Dale has freelanced for many Jewish newspapers in Massachusetts and nation-wide, including The Forward in New York, and has worked with Jewish teens to publish student newspapers and poetry books during the course of her writing and editing career.
A student of Elie Wiesel, and long-time teacher of Holocaust and Genocide studies, Dale developed a unique program for Kesher Newton graduates in 2014/2015, named ATID (Adventurous Teens in Development), teaching students about genocide and the Holocaust in a unique hands-on way, stressing students should become upstanders, rather than bystanders or perpetrators.
Dale has earned a Masters degree in Judaic Studies from Hebrew College, a Post Baccalaureate diploma in Education from Framingham State University, and a Bachelor of Science in Journalism from Boston University. Originally from Johannesburg, South Africa, and a product of Jewish Day Schools there, Dale has lived in New England for more than 35 years.
Dale, a resident of Newton, is married to attorney, political activist and fellow South African, Geoffrey Norman. They have four children, a grandson, and two dogs.
CONTACT INFORMATION