Sponsored by the Social Action & Justice Committee and the Adult Education Committee
Wednesday, April 22 at 8:00pm at Congregation Shalom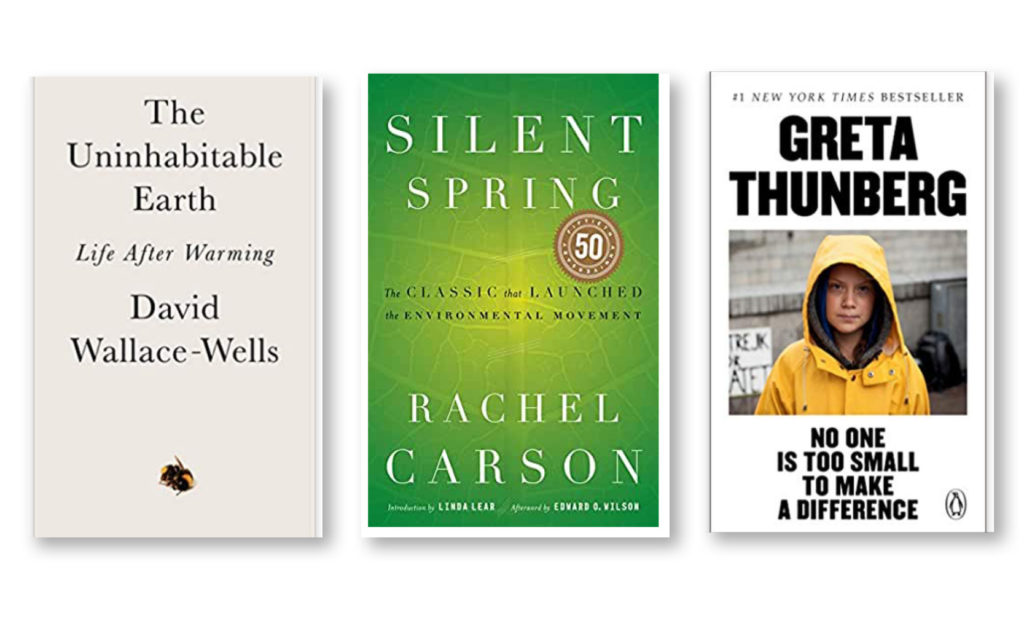 Finding just the right book about Climate Change was impossible, so this year we're recommending three:
Uninhabitable Earth: Life After Warming  
by David Wallace-Wells
This book started as a New York magazine article by an American Journalist in July 2017. The Guardian describes it
as "a brutal portrait of climate change and our future lives on Earth. But we have the tools to avoid it."
No One is Too Small to Make a Difference  
by Greta Thunberg
This is a collection of eleven speeches written by Time Magazine Person of the Year, Greta Thunberg about global
warming and the climate crisis.
Silent Spring  
by Rachel Carson
Where it all began! Rachel Carson, an American marine biologist, author and conservationist, wrote this book in
1962.
Read one of these or any another book of your choosing! Podcasts and YouTube are also a great option.
Our guest speaker, Carolyn McCarthy from University of Massachusetts Lowell, will lead our discussion and guide
us into a Climate Action Simulation. The simulation game will make us participants at an emergency climate
summit meeting organized by the United Nations. In smaller groups we will propose climate solutions to limit
global warming to achieve Paris Agreement goals. Our actions will be analyzed in real time to determine the
effects on the world climate. The game is designed to explore climate change solutions and see what it would take
to address this global challenge.
All are welcome!