Deborah Morrissey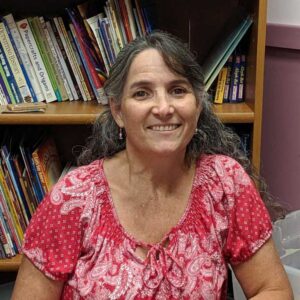 Deborah Morrissey and her family have been members of Congregation Shalom since 2004. Her three children went through the Religious and Hebrew School Program at Congregation Shalom from Preschool through 12th grade.
Born in New York, Deborah was raised in southern California and has lived in Massachusetts for more than half her life. She earned a bachelor's degree in psychology from UC Berkeley and a master's degree from Tufts University in Child Study and Education. Deborah is very passionate about education and has been immersed in the field for her adult life.  Deborah has worked with children of all ages from babies through high schoolers. She taught for many years at Tufts Educational Day Care Center and in the Cambridge Public School system. Deborah has been a teacher in the Religious School Program at Congregation Shalom since 2007, teaching many different grades.
Deborah has served on several committees at Congregation Shalom, including the Social Action Committee and the School Committee. In 2019, Deborah started as the Interim Education Director for Congregation Shalom's Religious and Hebrew School Program and has stayed on in the role of Education Director. She considers herself a lifelong learner and hopes to continue to instill a love of Judaism and learning in all the students at Congregation Shalom. Deborah also works at the Chelmsford Public Library in the Youth Services Department.
She lives with her husband John and often shares her home with dogs that need a vacation from their owners. Her three children are all in college. Deborah likes to read, walk, hike, bike, quill, garden, can, and bake. She can be reached at eddirector@congregationshalom.org.