Community
At Congregation Shalom, we foster a strong sense of community with a very active Sisterhood and Brotherhood, Youth Groups for middle school and hIgh school students, and an extensive array of clubs and committees all working together to provide innovative educational, spiritual and social programming throughout the year.
Tikkun Olam, repairing the world, is infused in every aspect of our Temple community, expanding our focus not only to our neighboring towns, but to more global efforts, as well.
Sisterhood
Read the latest Sisterhood news here.
Sisterhood is a diverse group of women, from all different walks of life. We strive to create a welcoming community, and support each other through life's ups and downs. There are opportunities to build new friendships, pursue spiritual growth, explore educational and cultural topics, and enjoy a variety of social activities together.
If you are not already a member of Sisterhood, we invite you to join!
For more information please contact us at sisterhood@congregationshalom.org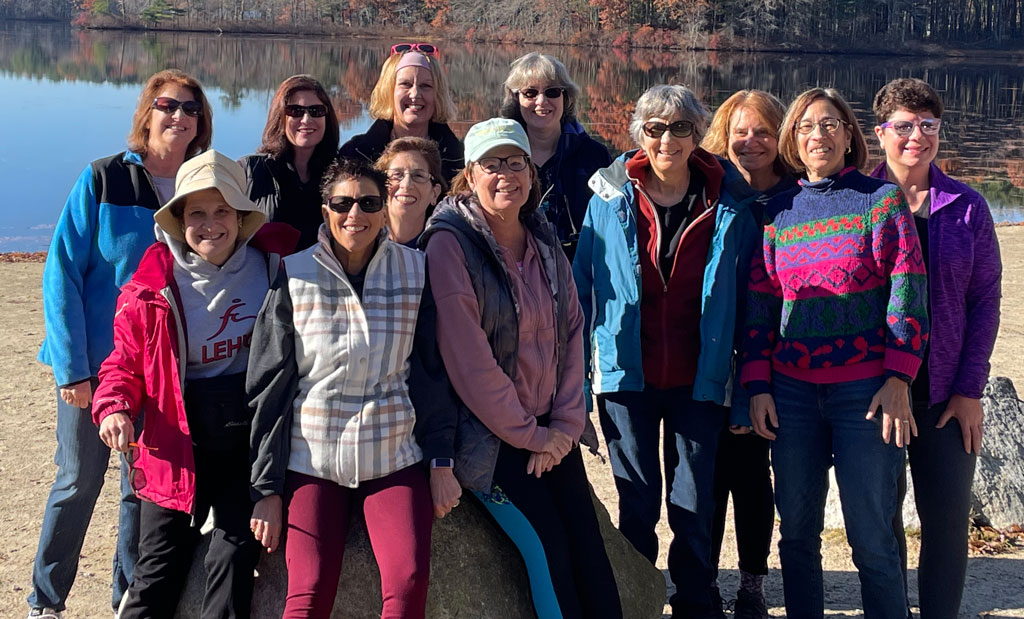 Visit the Sisterhood Gift Shop
If you are looking for a gift or something for your own home, the Gift Shop has a variety of Kiddush cups, Hanukkah items, jewelry, mezzuzot, and other unique Judaica items available. The Gift Shop is located in the school hallway of the temple. If you would like to make a purchase, call the Temple office at 978-251-8091 or email sisterhood@congregationshalom.org.
Brotherhood
Read the latest Brotherhood news here.
Brotherhood provides the opportunity for the men from our Jewish community to experience fellowship, mentorship and friendship, whether it's to just kick loose and have a good time or to provide a service to someone else. Every month there's a Guys night out at an interesting restaurant, where we share food, drinks and conversation. We offer several flagship events each year that involve legendary food, interesting interaction, varying recreation and plenty of old time comradery. We also offer events like hiking, biking, skiing, poker, glass sculpturing, and much more. We support our community with Sukkah Setup, Latkes-Making, and by presenting a B'Nai mitzvah gift to our young adults. We provide a forum where you can come as you are and share whatever you would like. The guys are friendly, welcoming, and non- judgemental, which makes for enjoyable fellowship.
Guys Night Out in Local Restaurant
Making Latkes for the Religious School Hanukkah Party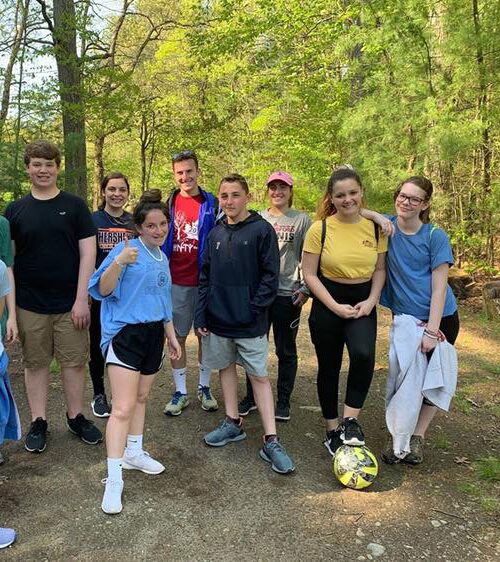 Shalomites (Youth Group)
Read the latest Shalomite news here.
The Shalomites, our Temple youth group (TYG) is for teenagers in grades 8–12. The teens plan, create and lead all their programs as they learn about themselves and the world around them. Their activities are social, educational, and religious, and address issues of social action. Shalomites participate on the regional level with the New England Federation of Temple Youth (NFTY-Northeast), together with Jewish teenagers throughout the New England area, in a variety of programs. Youth advisors work to help mentor the group. 
Some examples of programming on the local level include our annual creative service, ski trip and Purim Carnival. We also participate in social action events during the year that support Congregation Shalom and the community at large. Shalomites are also active at the regional level where they attend events held by NFTY Northeast. Several of our teenagers have been involved on the regional board level as officers of NFTY Northeast. All 8th-12th graders are invited to participate in the Shalomites. We have also had a parent led junior youth group program when there is interest from that age group. Students do not have to be members of Congregation Shalom. If you have any questions or would like to join us, please contact our Shalomite Advisor.
(Tikkun Olam) Social Action/Social Justice
Tikkun Olam, repairing the world, is infused in every aspect of our Temple community. As Jews we are committed to healing, whether it be our Temple world, our surrounding communities, or supporting and lobbying for national and international social and political issues. Our Congregation provides its members with many opportunities for social action. Our programs benefit women's shelters, the homeless and the hungry, the elderly, and our environment,  By reaching out to people in need, we not only help to repair the world, but also strengthen our Jewish identity and provide an important example of our values for our children.
At the center of our Tikkun Olam programs is our Social Action/Social Justice Committee. Our mission is to be the central resource for Jewish social action to both temple organizations and individuals in the temple who look for ways to make a positive impact on the world. Our committee strives to provide a Jewish framework for our congregants to perform tikkum olam.
Learn more about Social Action/Social Justice at Congregation Shalom>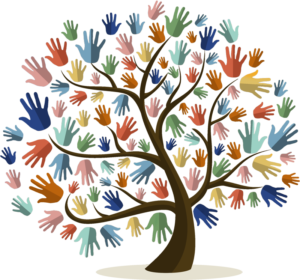 Committees, Clubs and Chavurot
At Congregation Shalom, we offer many opportunities for our members to get involved through our varied committees and clubs. We encourage all members to channel their personal interests and expertise to their group(s) of choice in order to feel connected, help our congregation grow and thrive, support our local community, and  contribute to global causes.
Our Chavurot offer members an excellent way to foster deeper friendships and a stronger congregational community.