Keeping Connected with our Ed Director
June 2022   Keeping Connected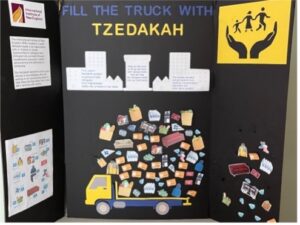 We did it! We have reached the end of another successful school year. No words can express my gratitude and pride for all the students, teachers and families that have worked together this year to allow us the joy of the school year. You will have a chance to express your gratitude at the Teacher Appreciation Shabbat which is scheduled for June 10 at 7pm! It is also our Graduation service, in which we will be hearing from some of our 12th graders before they continue on with their own journeys and all that lies ahead for them. Please plan to attend this special Shabbat and please consider bringing a nut-free food to share for the oneg.
I am also so excited and proud to let everyone know that we surpassed our tzedakah goal for this year. As of this writing, we collected $1009.50 in cash and another $1665 in gift cards, all of which will support the refugees from Afghanistan through the work of the International Institute of New England. Check out the truck full of goods in the photo!
The last day of Sunday school brought with it great joy and enthusiasm in the building. Families joined in on their children's classes for lots of end of the year wrap ups. It was a spirited atmosphere in the building. You could hear the K-2 class singing out loud and strong to "Do a Mitzvah." The 3rd graders celebrated their completion of their first year of Hebrew with the Siyyum HaSefer service and the receiving their own personalized prayer book. The 4th graders recreated the many bible stories that they explored this year by creating an awesome timeline mural. The 5th graders hosted an awesome prophet museum, showcasing some of the information they learned this year.The 6th graders recalled 10 things they learned this year and also had the Torah passed down to them. For the 7th graders, it was bittersweet, as they passed the Torah down to the rising 7th graders for next year, shared their ketubah gallery and had their last Sunday morning class in the building! (7th graders can come back on Sundays as madrichim!)
The last day of Hebrew School included teachers and students wrapping up the year with different games, activities and treats! All well-deserved after a year of lots of Hebrew learning.
The 7th graders did offer some advice to the incoming 7th graders, as the rising 7th graders begin their year of becoming B'nai Mitzvah. Here is their advice for practicing Hebrew:
When you practice, have a goal set for your practice session.
Don't wait until the last minute to learn your Hebrew.
Study, study, study.
When you are reviewing, review the spots you messed up.
Pace yourself so you don't get overwhelmed.
Do extra practice on the prayers you don't know.
Review old prayers.
Try to have fun during all this Hebrew practicing. It is worth it!
Thank you to everyone for working together this year to create an environment of learning and laughter, community and care, and friendship and fun.
I hope to see you all on June 10 for the Teacher Appreciation Shabbat.
With gratitude,
Deborah
June Schedule
Remember to practice Hebrew several times a week during the summer months.
Friday, June 10 – Teacher Appreciation/Graduation Shabbat
7pm
Please bring a nut-free oneg item to share
Saturday, June 18 – Temple Parking Lot Party